We sell custom restored Singer Featherweight sewing machines.
We currently are not accepting customer supplied machines for restoration.
We are only taking orders for machines from our inventory to restore.


HERE ARE A FEW PHOTOS SHOWING THE PROCESS OF A COUPLE 222K's WE RESTORED.


A few photos of a 1934 Patriotic hydro dip machine
Here are some pics of a 1941 Patriotic 221 that we restored.
Here is a pic of a two tone 1935 221 we did for a customer.
Colors are Cortez Blue Pearl & Deep Lilac Pearl

1952 221 Snow White Pearl

Restored Original Basic Black Singer Featherweight

Beautiful Custom 221 Candy Purple Machine

1934 Featherweight 221 Custom Black Gold Paint

221 Featherweight Kandy Purple

1936 221 Featherweight Fuchsia Pink

Restored 1946 221-1 Cocoa Pearl Featherweight
Restored 1936 Kandy Apple Featherweight 221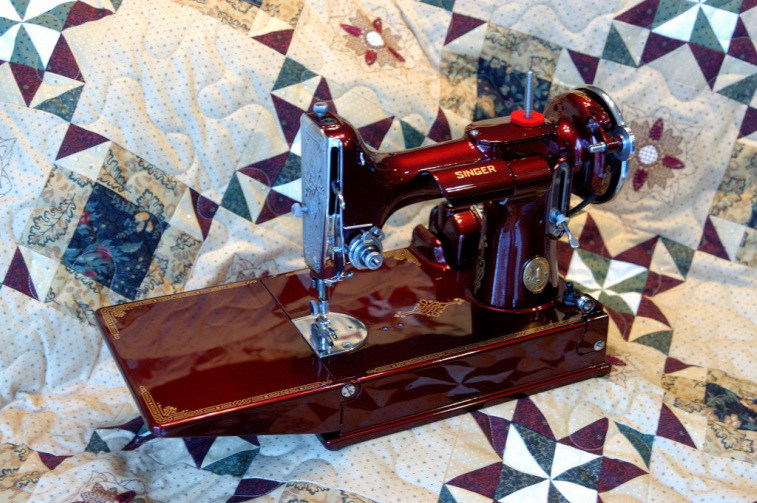 ---
Restored 1935 Beautiful Black Featherweight
221

Restored 1935 Kandy Wild Cherry Featherweight

Restored 1938 White w/ Violet Ghost Pearl
Singer Featherweight

Restored 1935 Organic Green Kandy 221 Featherweight
Custom Restored 1950 Singer 221 Gold & Black
Custom Restored 1934 Singer 221 Kandy Apple
Rm Central Sales LLC
715-570-2199